In the state of San Luis Potosi, lost amid the mountain's jungle, Xilitla is a banal Mexican village that would have no interest hadn't a gonzo English poet, choose to settle down in it in the 1960's and decide to create it his chef d'oeuvre: a marvelous garden where the artistic works of men will live in perfect harmony with those of the Creation.
Indeed, in the middle of the Mexican jungle, exactly in Xilitla, poet and millionaire Edward James realized constructed 1962 and 1984, several gothic sculptures and decorative elements, motivated by Pharaonic and Mesopotamian civilizations. Inspired by the vegetation of the Huasteca and the surrealist movement, constructions of Las Pozas compose a phantasmagoric garden in an unlikely marriage between concrete and nature.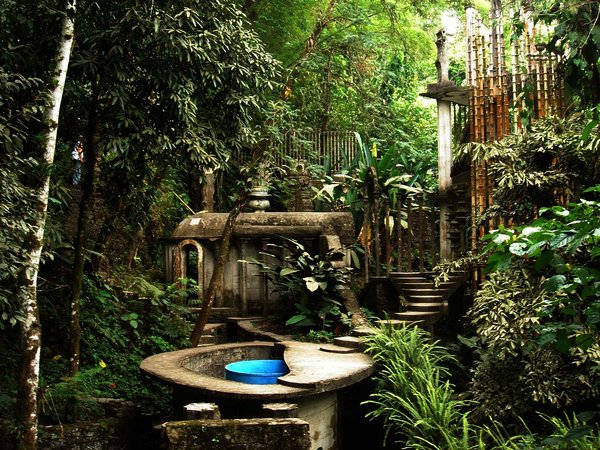 Location of the Garden
The garden of Las Pozas is located in the southeast of the Mexican state of San Luis Potosi, about 01 km north of the town of Xilitla in the rainforest that covers a mountainous area. Xilitla is a village producing coffee and citrus, landlocked in the Sierra Madre Oriental. An idyllic location that combines the Pozas of Edward James, waterfalls, the Nahuatl language and the Huasteca culture.
Origins and Present
Stretching over 32 hectares, Las Pozas comprises a network of natural waterfalls and ponds that gave their name to the site. Between 1962 and 1984, the poet and patron Sir Edward William Frank James (1907 – 1984. Born in West Dean, Sussex) realized, with the help of many local artisans, dozens of constructions and concrete sculptures (notably The Passage of the Seven Serpents, Hands, Divine Eye and The Stairway to Heaven) . Thus, the site is punctuated with thirty follies and elaborated decorative buildings, huge surrealist concrete sculptures, reaching sometimes the height of four floors. Inside the garden, there's an intricate network of paths which are embellished with stairs, ramps, bridges and narrow sinuous walkways running through the valley. In addition to the pools, most realizations have never had any practical use and they were never meant to: the stairs that end on a stone wall, solitary pillars erected over the jungle… in short, the ensemble amounts to nothing more than a surrealist Eden garden. Here, the concrete is vegetation sprouting from the ground, taking the form of animal or imaginary creatures. In 2007, the Foundation of Pedro and Elena Hernández, Cemex society and the state government of San Luis Potosi bought Las Pozas and created what is known as "Fondo Xilitla", a foundation dedicated to the preservation and restoration of the garden. After the tropical vegetation began to strongly damage the concrete structures, the site was registered in late 2009 on the indicative list for registration as a Unesco World Heritage Site; its restoration program started in 2012.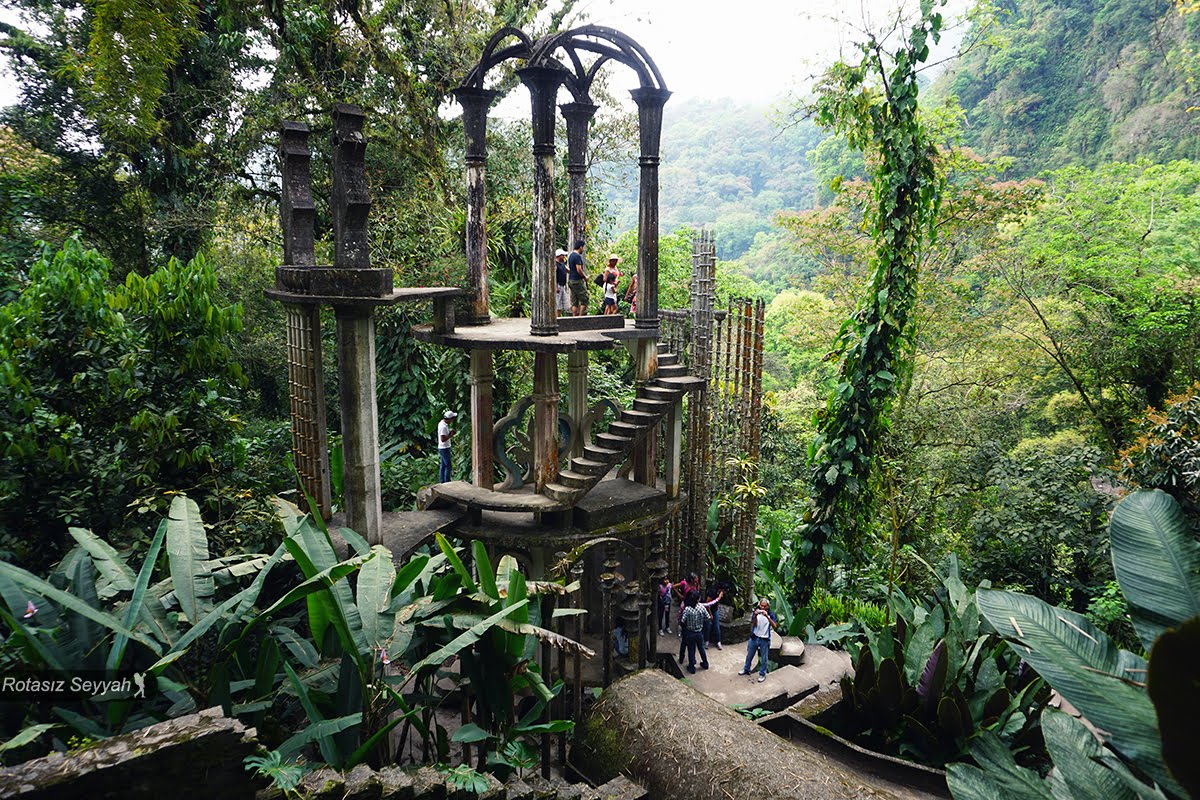 Why go to Las Pozas
If you decide to go there, awaiting you is one of those amazing and unforgettable weeks of a lifetime. You may have visited some wonderful places, but none would be as magical as this. If you are looking for a quiet spot, completely out of sight and public lighting, and want to admire a starry sky like you would never see anywhere else, this place is for you. Las Pozas is a real surreal outlandish journey, which is even more appealing if you visit it during the rainy season. During the Holy Week, the place is full of hippies and wandering people, and endless parties are held every night. So by going there, you actually buy a ticket to a magical place where, once inside, you will merge with nature and forget the material and crazy world in which we live. To fully enjoy it there, you have to recruit all your five senses and let yourself to fall in love with life that vibrates in every corner. Sunrise is a phenomenal sighting, especially if you like to take your coffee while watching and listening to the variety of birds, the sound of water and background haze revealing green trees and clear blue sky.
Xilitla
Xilitla is located in the region of La Huasteca (676 m above sea level on the eastern slopes of the Sierra Gorda chain , part of the Sierra Madre Oriental.), one of the wettest regions of Mexico (receiving over 2500 mm of rainfall annually). Precipitation is more important during the summer, but the winter season is still wetter than in most other Mexican regions. Xilitla municipality has a population of over 50 000 inhabitants according to last estimations, while the village of Xilitla itself counts a little over 6500. It is known for its mountainous landscape, its sources and, needless to say the obvious, for its sculpture garden Las Pozas.
What to do in Xilitla
In Xilita, you have plenty to see, to do or to eat:
For 200 to 300 pesos, you can and should enlist the service of an English-speaking guide who will be glad to decipher all the secrets of Las Pozas.
In the village of Xilitla there is a market in which locals living nearby offer wild and exotic fruits, coffee, bread, cheese or delicious tamales wrapped in banana leaves.
In the center of the village is the San Agustin Church, a former convent built around 1550 and the Museum of Edward James which gathers his memorabilia and many of his personal items and photographs depicting the patron, a friend of Salvador Dalí, René Magritte, and Mexican painter Leonora Carrington.
Up, Casa del Arbol offers unrivaled views of the valley. Near Las Pozas, a small road provides access to the cascade of Los Comales. As to the Cueva del Salitre, this is an area where climbing is widely practiced.
From 25 to 30 August each year, the village moves to the rhythm of Huastec dances and music, huapango, which are also a part of the Coffee Fair of Xilitla. In the main square, indigenous communities are used to sell their products every Sunday.
The Comedor Popular of Mujeres offers various culinary specialties including and not limited to the savory Enchiladas huastecas; the commonly called gorditas stuffed with a stew; the guiso; the Zacahuil, which is a giant tamale cooked over a wood fire; the Acamayas, freshwater prawns; spirits; the Jobito, Capulin wild cherries, oranges or the passion fruit.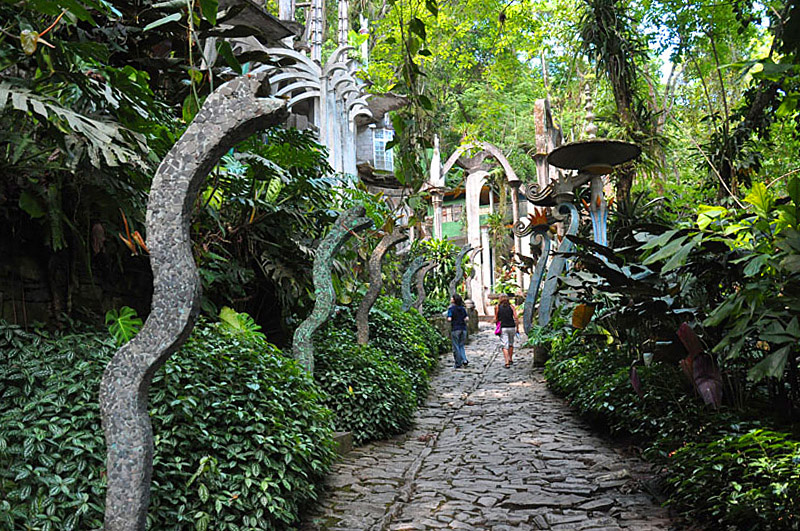 Where to sleep
The village of Xilitla is known for its landscapes, food and people; it has several hotels; and, close to Las Pozas, there are cabins for four people (expect to pay 500 pesos per night). If you like to stay in a comfy room near the garden, check out these selection:
Casa Caracol
A hundred meters from the garden, you find the best option, Casa Caracol, an ecological and surreal place, where tepees are rented with large beds for 100 pesos per person, with a kitchen and a large palapa (a thatched parasol).
Campestre Paraiso Encantado Hotel
200 meters farther, you have the Campestre Paraiso Encantado Hotel (literally, the enchanted paradise) Relax and enjoy this cordial hotel reputed for comfort, privacy and cleanliness; in the morning, you will wake up to the birds singing at your window. The hotel suggests taking its clients through tours to the entire Huasteca region. Offering a well studied and friendly package, this hotel's amenities include super soft mattresses, parking, pool, air conditioning, Wi-Fi access, coffee machine and refrigerator.
Hotel Guzman
Distance from Las Pozas: 200m. Located in the center of Xilitla, Hotel Guzman features a 24 / 24 open reception and rooms with mountain views. Located in one of the famous magical cities of Mexico, it is just one block away from the main square and the San Agustin church.
Posada Casa James Xilitla
Distance from Xilitla: 1km. Surrounded by mountains, the ecological guesthouse Posada Casa James Xilitla offers bright rooms with views of the jungle encircling it. It includes a 24 / 24 reception, free parking, an outdoor pool, big gardens and a free Wi-Fi connection.
Hotel Paraiso Huasteco
Distance from Xilitla: 24km. With a furnished terrace, a swimming pool and a gym , Hotel Paraiso Huasteco is located 800 meters from downtown Tamazunchale and just 60 meters from the river Amajac. Decorated in green, its rooms have a wardrobe, Wi -Fi free internet access, room service and TVs with cable channels. Other services that are available include showers, ironing boards and complimentary toiletries. A restaurant, a fitness center and a cafe are open 24 hours a day are in the hotel . The Wi-Fi is free in public areas and parking is available also for free. Also on site you will find coffee /tea in public areas, meeting rooms and a children's pool.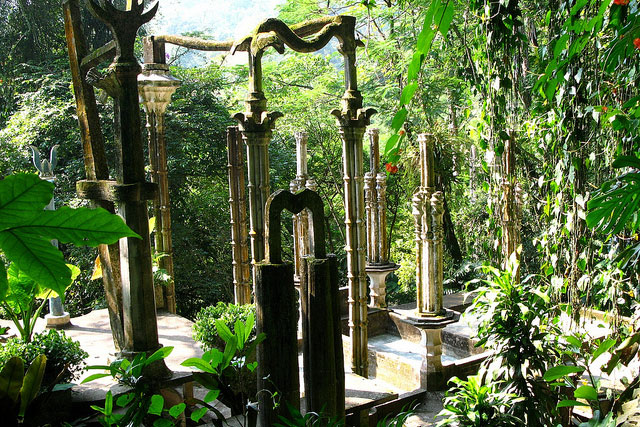 How to get to Xilitla
By bus, there are several departures from Ciudad Valles in the state of San Luis Potosi and Queretaro, and also from Hidalgo. There is a more convenient way, and that's from bus station located in the north of Mexico City, there you find a direct departure to Xilitla for 300 to 400 pesos, and an estimated 6 hours journey.