In fact, Moscow warmly welcomes about thousands of tourists every year,looking for simple vacationing or memoriesadding to their experience, including the families with children, honeymoon couples and business travelers as well.
Moscow is the financial and power centre of Russia, hence it can be extremely expensive and daunting for those looking to travel on a budget. However, a bit of planning and research can help travel enthusiasts visit this enigmatic city without losing their sleep over the money they have appointed to spend during the trip.
Take Your Trip During Off Season
This is the key to budget travel. Winters begin in December and summers least from June to mid-September (the high tourist season) so that leaves Fall, from mid September to the end of November an ideal season to visit Moscow. One of the most exciting facts about traveling to Moscow in off season is that the famous Moscow ballet plays throughout the Fall season, whereas during summers, the theatre and the ballet both are away.
Budget Hotels In Moscow
Get your cheapskate radar on and hunt for budget hotels before you make your trip. Here are some options you can consider staying at during your time in Moscow.
Hostel Asia: This is an exceedingly affordable hotel accommodation where you can comfortablystay in a single room and shared bathroom, for just 26 euros, while double beds each with a separate bathroom are for 44 euros only.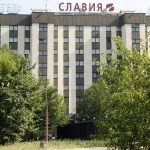 Maxima Slavia Hotel: This hotel room starts with the rate of 85 euros, while discounts are offered for online booking; open up the official site and book in today to remain equipped with at least a rented abode when you travel to Moscow. The second best thing of the hotel is it's about 10-minute walking distance to the nearest Metro Station!
Use Public Transport To Travel
Travelling by public transport, mainly the Moscow Metro is a very viable option. Although Central Moscow is best explored on foot, the gigantic size of the city makes it impossible to do so. Therefore, public transport is the most economical option available to tourists who wish to explore this mystical city without breaking their banks. The Moscow Metro is one of the most feasible transportation available to tourists in order to satisfyingly explore all the major attractions in the city. There are more than 160 stations of the metro bus throughout the Moscow, and their locations leave the sights at a few minutes' walk once you get off the train.
Hunt For Coupons and Cheap Tickets Online
When you finally land in this city of intriguing past, you must not miss out on the tour to Kremlin, the famous Moscow circus and the Moscow ballet shows among other attractions and sights to view in the city. A bit of homework before you plan your trip will save you hundreds of dollars. Search online for discount coupons and cheap tickets to central attractions in Moscow, and make your reservations beforehand so that you are well-aware of when and what to enjoy once you reach at the spot.It's no trip to Moscow city if one misses out either the thrill of the Moscow circus, the sheer artistic feel of the ballet shows, or the alluring museums in Kremlin.
Contributed to TheBackpackers by 'StagHorn'