The city promises to cater to the tastes of all that come at its shores, whether it's utterly weird that they or looking for or enjoy their drink in the hubbub and noise of the city. Below we outline some of the most amazing bars spread around the city of Barcelona.
The riches of Wine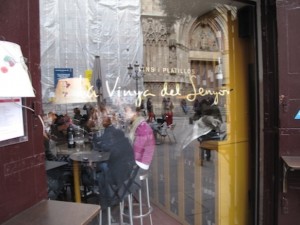 When it comes to the wine the city's numerous bars may not be up to the challenge to cater to the varied tastes and demands of the visitors and locals, but some notable wine bars including La Vinya Del Senor can certainly live up to the challenge. It is one of the best places to enjoy a refreshing drink while beholding the grand surrounding edifices. But the bar tends to be usually filled and hard to get in, so buckle up and try to get their early.
Drinks on budget
Those tourists on the tight budget need not to worry; Barcelona is not prepared to leave them thirsty. The city contains hundreds of bars that serve a varied range of drinks and beverages at very reasonable prices. Some of the notable bars include Oviso that combines the stark stone structure of Barcelona with merry environment to make it a great place to have a few drinks and meet new people.
Tapas Tours
Tapas retain an important part in the city's cuisines and can be found at almost every corner and street. Tapas are small snacks that are created out of variety of combinations. Visitors are recommended to visit the historic La Plata to vanquish their hunger and grab a few drinks in a cheery little bar on the corner called Bar Celta.
Elegance and Style
When it comes to cocktails Barcelona has ample to offer in this regard as well. Boadas one of the oldest running bars in the city, serves a mixture of different drinks, cocktails and has been serving the thirsty visitors since 1933.
Normal is boring
If the normal looking bars fail to stir the passion and curiosity in you then the city has plenty of non-traditional bars and establishments with garish, strange and sometimes macabre décor to take your breath away. Sor Rita is one such establishment that sports images of Virgin Mary on the walls. This strange décor gives the establishment a strange and eerie look that creates amazing and strange environment for the visitors to enjoy.