And what does one need more than a sound connection with the media world when he's out on the foot to travel? Why? of course, you need your internet to browse, book, hunt, and search and update all kinds of things that are even erased from hard copy only on the basis of modern living today.
Tourists often come in dire need of internet on their travel, and while we are not interested or concerned about the rest of the cities, Florence take careful attention to bring the utmost comfort and facility to its visitors. Before September 2013, the idea of wifi hotspot connection were only as of expanding. However, to our sheer pleasure and surprise, the law speaks now of free and open wifi connections in Florence! Time to move out and settle in the Italian fashion capital now, isn't it?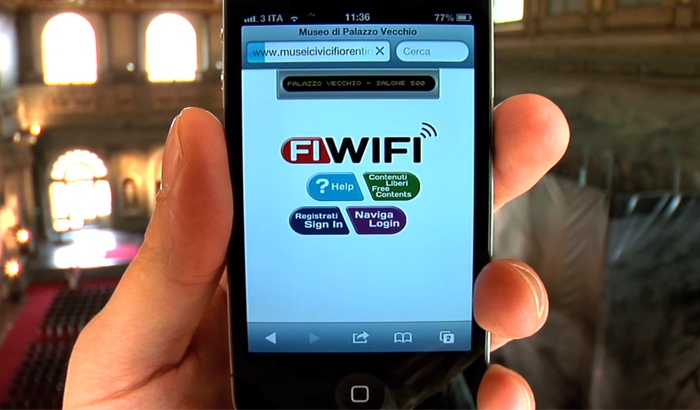 There are primarily two types of wifi connections in the city; through the Paas system, and through the wifi Firenze. The Paas system is activated by human authentication and the perfect place to sign up for a user card is the Bibliotecadelle Oblate on via dell'Oriuolo. The system which is situated in many public spaces including libraries, associations and circoli, and can be used in points across the Tuscany, enables a very simple method to activate, particularly for the foreigners who most likely are assumed to shrivel within themselves after being fed up of this specific travel problem. On the above mentioned location, you are only required to go to the first floor, the first desk and sign up for a free library card, and then to another desk where you will be required to submit a copy of your ID which will activate the internet card. Feel free to sit at public points and use free internet to wind down those piling updates for your travel diaries!
Wifi Firenze is actually open in almost whole of the Florence; open written with bold, capital letters. Along with the piazzas that were allocated in 2010, some more location spots were added in 2011, while lately, the 2013 updated list now even includes the parking lots. Among the long list, some of the places include Piazza Signoria, Piazza S.Croce, Piazza S.Spirito, Piazza SS Annunziata, Parterre — via Canova c/o Anagrafe, Piazza Ghiberti e Annigoni, Obihall (ex Saschall), Anconella park, Albereta park, Piazza Ferrucci, LungarnoPecoriGiraldi, Bellariva Garden, Torre San Niccolò/Le Rampe, LungarnoTorrigiani, etc.
Additionally, you might as well note down another spot in your list of enjoying free internet access, which is along the Linea 1 tram line, going from Santa Maria Novella train station to the Isolotto, where the stops and the tram is free wifi plus benches to help you take a seat and check up on Facebook or Gmail.
Contributed to TheBackpackers by 'StagHorn'; contact him here.