If you ever been to Asia, you will most definitely be amazed by the agricultural stair-case fields, however, Dongchuan Red Fields in China is something you need to put on your bucket list! Gorgeous and colorful palette-like fields are what make this place unique.
May to June and September to November are the best time to visit as the red field is more visible after harvest and the corps starts to grow while in autumn the colors all turns into warm tones.
Located near Kunming, the area is adorned by many photographers as well as the backpackers as the walk through small villages makes the travel, even more, stunning. In order to get to the land, one should take a direct bus from Kunming North Bus Station that runs only two times per day – morning and late afternoon. The drive may take 5-6 hours due to some safety measures.
Another way is to take a bus from Kunming Eastern Bust Station to Dongchuan County and change another bus to the Red Fields itself. The buses run more frequently to Dongchuan County while the bus to the fields run twice per day. Of course, there always is a possibility to rent a car. As for the way back, you should take a coach to Dongchuan Passenger Station that runs twice per day and then change to an ordinary bus to Kunming. Entrance to the field is free of charge.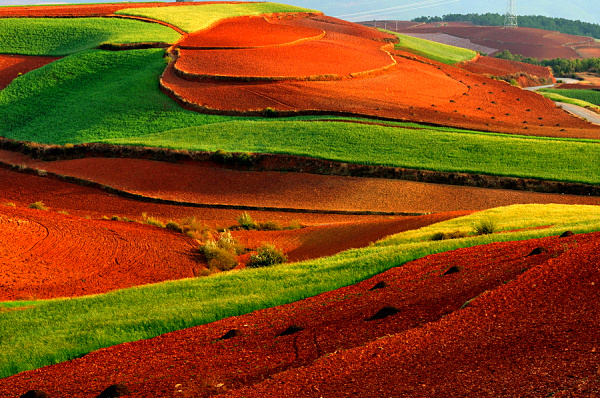 The Red Fields is best known for its sunset views which make it the top attraction of the area. Sunset Valley or Luoxiangou, bounded by mountains and decorated by traditional villages, the colorful fields are a great pace to catch a great picture of sun-kissed lands. To see the marvelous sunrise, The 'Hit Horse Hole' Sunrise (Damakan) is the best place for it. To get acquainted with the traditional lifestyle of locals head to Beihecun village. Not enlisted in many guides, the village is 'untouched' with red field hill on its background.
The area offers up to 30 hotels for you to stay a night, but its services are limited. Dongchuan Red Fields is still not developed into the touristic site, so the meals available in the area are only Chinese with no other cuisines to eat. However, you can easily get western meals in Kunming where Greenery, Jinga'na Spanish Restaurant, Jintaiyang Italian Restaurant and Origus Pizza are the few places considered as best places to eat here.
Once there, bear in mind that the Red Fields are stretched on more than 50 kilometers so the best way to see all is a private transport as there are no buses going within the fields.  Head to some local agencies to offer you a decent trip and avoid all the confusing details. Do not expect locals to speak English and their Mandarin is quite poor as well. The nights get chilly and strong wind can make it even worse. Take some warm clothes with you if you plan on watching a sunrise.