Travelers can't help but fall in love with this tropical paradise in Asia, Bali, Indonesia along with its top Balinese hospitality. Get captivated by its fine landscape, mountain ranges, stunning beaches, and resorts and enchanting infinity pools while having a magnificent and dramatic view of the famous Ayung River. You will be surprised that Ubud, Bali, Indonesia possesses numerous hotels featuring different infinity pools which are to be enjoyed by locals and tourists alike as they get to explore some hidden havens in this part of the world.
There are several hotels in Ubud, Bali, Indonesia with beautiful infinity pools you can enjoy.
Ubud Hanging Gardens Hotel
One of the luxurious destinations in Bali is the Ubud Hanging Gardens Hotel, a man-made tourist attraction in this small island. The hotel's grandest feature is the large, multi-leveled infinity pool adorned with curves which seems to imitate the beauteous shape of the hills found nearby. Travelers can enjoy swimming at the edge and at the same time get a fantastic panoramic view of the ancient and eclectic Pura Penatara Dalem Segana temple situated on the opposite hillside. Visitors who would want a peaceful ambiance can find this place perfect for contemplation as they relax under the sun. Ubud Hanging Gardens Hotel's 38 luxury private pool villas is perfectly nestled inside this scenic paradise. For couples going on a honeymoon, this would be a fitting Balinese getaway.
Alila Hotel
Another great hotel located in the heart of Ubud, Bali, Indonesia is Alila Hotel offering a memorable holiday escapade. It features an enchanting, dramatic emerald-green infinity pool perfectly perched on a terrace and seems to be afloat above the mesmerizing Ayung River below. This beautiful pool is tucked among stone-tiled sun decks adorned with comfy sun beds and stunning Balinese umbrellas.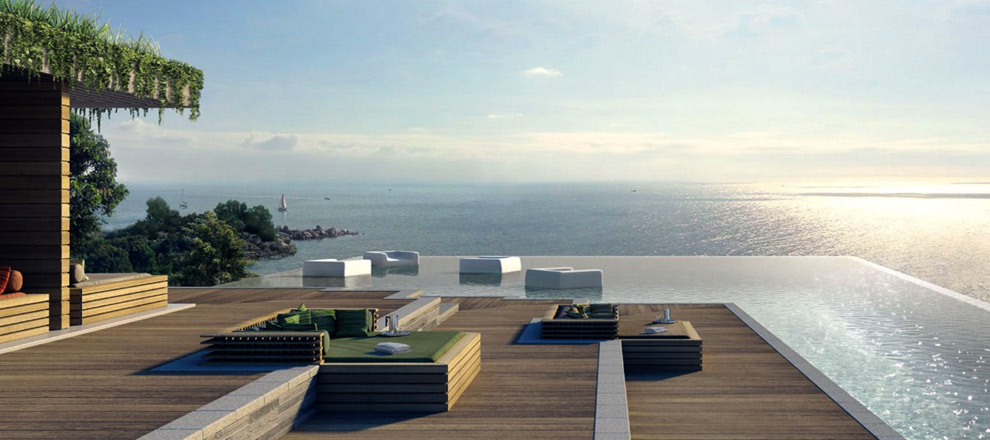 Villa Semana
Villa Semana Hotel has an infinity pool offering a mesmerizing view of a stunning scenery, the Ayung River which lies 50 m. below. The communal infinity pool is nestled among fine trees with a valley and forests. Villa Semana is a hidden paradise on this side of Bali, Indonesia, a secluded getaway tucked in the jungle and great for couples having their honeymoon or a family's weekend escapade.
Komaneka Hotel
This hotel has a beautiful infinity pool overlooking fine, lush greenery over the famous Ayung River with 8 lounge chairs. Komaneka Hotel offers a calm respite for a contemplative mood away from the hurried and busy modern life in the city. They make their guests feel at home and give them an amazing and memorable experience during their stay.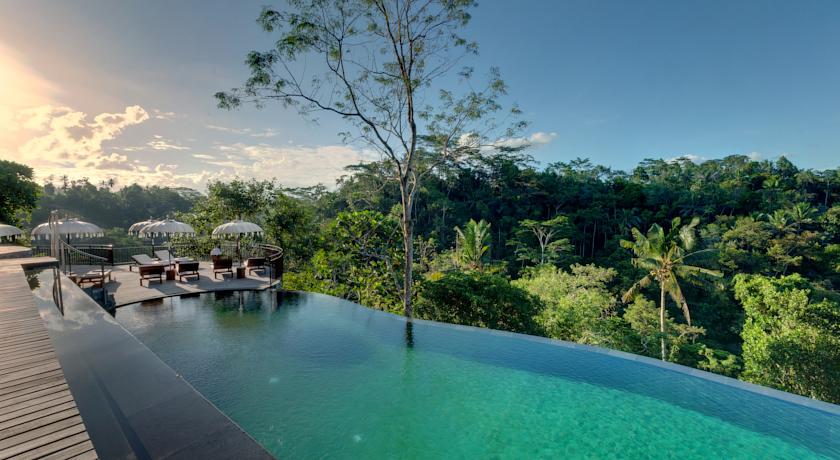 Amori Villas
Amori Villas provide authentic Balinese experience with a touch of luxury with its excellent infinity pool. Amori Villas can be reached in 15 minutes from Ubud town, a perfect and wonderful destination which gives superior hospitality to its guests.
The Royal Pita Maha Hotel
The Royal Pita Maha Hotel has a spectacular and beautiful infinity pool coupled with a massive room and provides an astounding view of the Ayung River below. This hotel is a hillside hotel made of several villas having their own infinity pools where guests immerse themselves in and enjoy.