Within the heart of Fukuoka Kitakyushu, Japan, a 12-hour drive from Tokyo lies a magical garden, Kawachi Fuji Garden, a pastel-hued, fairytale-like haven.
The captivating garden is also popularly known as the Wisteria Tunnel for wisteria flowers in white, blue, purple, violet-blue, and pink envelope the whole beautiful scenery. Travelers will be welcomed by a cluster of lovely flowers lying on top of the other dramatically swaying to the rhythm of the wind.
Wisteria is a flowering plant that grows all over Japan and has captured the hearts of many including its own people and of tourists alike who flock the place. Because of its enchanting beauty, it was also featured in Waka, classical Japanese poem.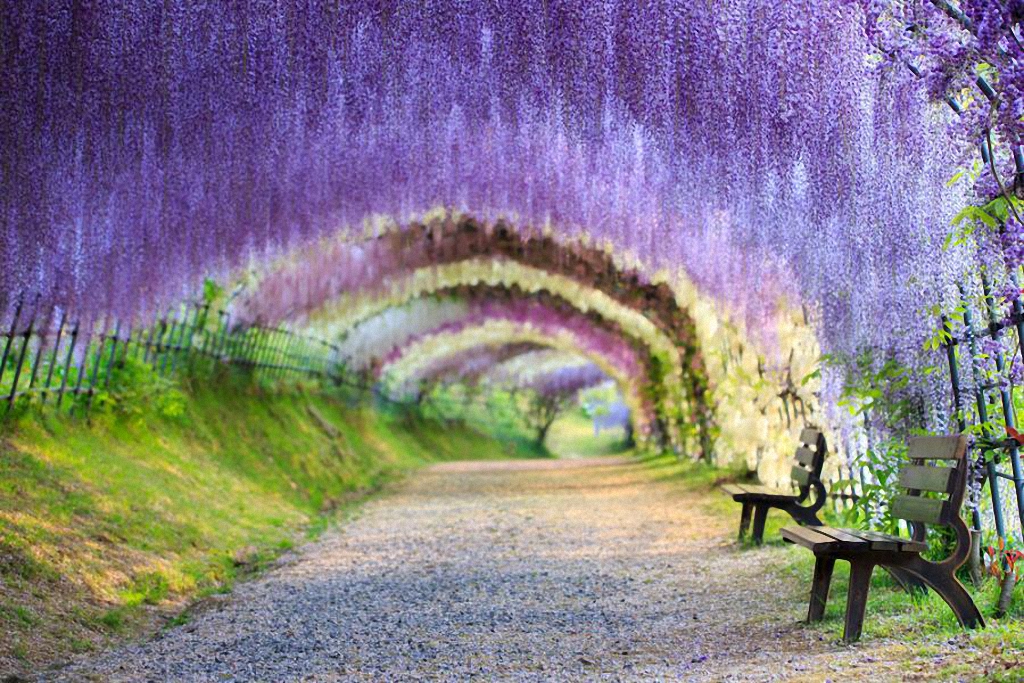 The dreamy Kawachi Fuji Garden is home to 150 wisteria plants with 20 different species. Kawachi Fujien is a private wisteria garden which was built in the year 1977. The garden is available only during wisteria season in autumn when the leaves change their hues. Wisteria blooms greatly at the beginning of the month of May but it is highly recommended to visit in late April because of the warm southern climate of Kyushu. A fairytale-like plethora of 150 trees consisting of 22 kinds of wisteria in various hues grow in a 10,000 square meters area.
Adventurers who would like to make the most out of exploring the magical garden should plan their trip during "Fuji Matsuri" or "Wisteria Festival" when the spectacular tunnel is at its full bloom and glory. The festival is set during late April or early May.
There are many other attractions to marvel at while inside the Kawachi Fuji Garden. You can walk along 2 kinds of wisteria tunnels, one which is about 80 m. long or 263 ft. and the other one, 220 m. long or 722 ft. You can also discover wisteria domes and wisteria trellises. Some wisteria trees are more than 100 years old.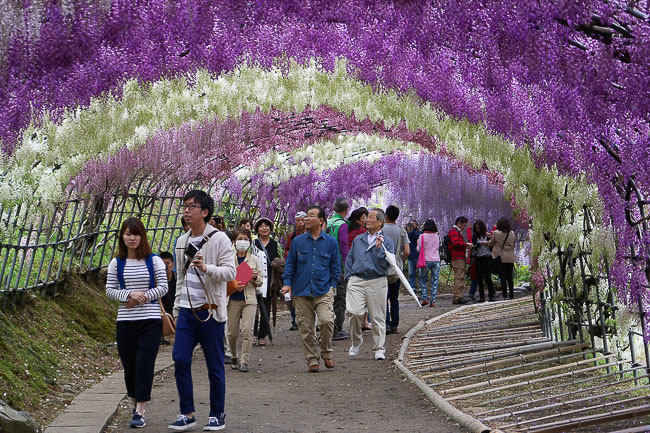 The awe-inspiring ambiance of the beautiful garden makes one feel like a princess straight from a fairytale story prancing along an enchanting canopy of a dome of flowers. Poets can weave beautiful imageries and romantic rhymes upon seeing such magnificent scenery. Aside from the grandiose wisteria flowers, you could also find some lovely "tsutsuji" or azaleas and Japanese maple leaves.
The enchanting garden is situated at 2-2-48  Kawachi Yahata-Higashi-ku, Kitakyushu City, Fukuoka.To get to Kawachi Fuji Garden, you can take a train to JR Yahata Station from Fukuoka Airport and also can ride the free shuttle bus service that goes directly to "Ajisai no Yu" right next to the garden. You can also take Nishitetsu Bus Number 56 from the JR Yahata Station "Kawachi Shogakko-Mae" bus stop (which takes about 20 min). The garden is a 15 minute walk from the bus stop. Admission fee is 300 yen to 1,000 yen which changes depending on the blossoming stage of the wisteria flowers.
Kawachi Fujien is a small garden nestled in the mountains and it can be difficult to reach, so thorough research on the route is highly advised before you go for a visit. Also it can be very crowded during the blooming season, so avoid weekends and peak hours.