A brand new concept in New York City tourism aptly called "taxi hotels" which offer cheap accommodation is gaining popularity these days. The bargain basement bed cost allows tourists to have a majestic view of the captivating Manhattan Skyline.
These taxi hotels offer a cheap $22 (14 Euros) a night fee which includes having the comforts of a real bed but tourists must be willing to sacrifice a few things such as no bathrooms, running tap water or electricity. Jonathan Powley, aged 35 gets to rent his vehicles for the past six months with his vehicles parked in strategic spots around New York, the city that never sleeps. Powel uses the home rentals Airbnb company to rent his fleet of 50 4-wheeled vehicles to adventurous travelers coming from different places. All the listing on Airbnb for parked vehicles are booked by the former hotel staff and stand-up comedian across the East River in Queens and maintains the cleanliness of his "4-wheeled hotel rooms" everyday, complete with clean bed sheets and fresh flowers.
Powley had also made a special arrangement with the local coffee shops around to allow his customers to have free snacks and access to their comfort rooms. An added "feature" of his taxi hotel business is giving his loyal customers the time to enjoy taking a shower in a local swimming pool.
Some of those who recently stayed in the bargain basement accommodation commented that it became part of their New York adventure with the mesmerizing view. One couple who had a chance to stay overnight in Powley's "4-wheeled hotel" said that the Manhattan Skyline view is the perfect location if both locals and tourists from other places want to have a staycation.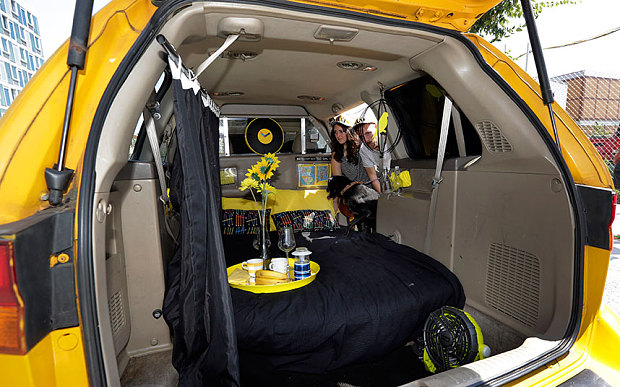 One reviewer noted that he had a unique experience being off the grid but just blocks away from a subway terminal that will take you to Times Square in just 10 minutes. He also added that the view is spectacular and that Jonathan Powel does his best to make his visitors feel comfortable as much as possible during their stay.
Powel admits that he still cannot provide his valuable clients toilet and shower facilities as of the moment for his business is just breaking even for now but he tries to park his vehicles near public places as well as nearby gyms and other places where he can make deals for his customers. The Airbnb host further stated that he wasn't operating the taxi hotel business just for money but also to have the wonderful opportunity to meet different people.
Other places as well are following the taxi hotel trend not just in New York City. It had been reported that in Portugal, a converted truck with a wood-burning stove offering an out-door picnic table is now also making waves in Costa Prada which costs 45 Euros a night while in the United Kingdom, a 2-bedroom VW van which also includes a kitchen but without a comfort room offers about 128 Euros a night.
This rent-my-car-as-a-hotel-room business trend which caters to both locals and travelers from other places can be considered as the hippest answer to New York City's limits on Airbnb rentals.