The village of Ella located amidst the tea plantation is considered to be a food heaven in Sri Lanka. The wide varieties of unique and home cooked dishes attract thousands of visitors from around the world. Tourists not only get a chance to dive deep in the local cuisines but also get a chance to cook, learn and experience the traditions of local cooking.
The recent surge of peace and reforms from a democratic government has made Sri Lanka a hotspot for travelers from around the world. The amazing beaches, rich local culture and mouthwatering cuisines make it a perfect tourist attraction. The local cuisines take their inspiration from Dutch, Indian and Portuguese dishes.
Most foreigners believe that meals in Sri Lanka extend only to Rice and Curry, but in reality the country has a wide range of complex and extremely delicious cuisines that remain undiscovered till this day. Most of the Sri Lankans prefer vegetarian dishes comprising of Aromatic spices and sizzling taste, but the island nations in the country also have a rich tradition in seafood and mutton based dishes. It is common to serve some kind of salad with each dish, usually the locals prefer to have salad called Malum made out of coconut water, spiced bred and lentils with green vegetables.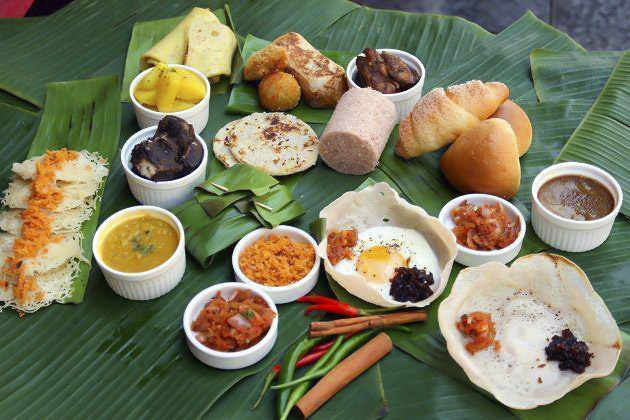 The unique spices of the local cuisines add uniqueness to all the dishes. Most of the spices used in the local dishes are homegrown in the local fertile soil. Ella is famous for its amazingly flavored dishes and jackfruit curry. The spiced potatoes made by the locals are famous across the country.
Ella is also home to huge spiced gardens that are maintained by local families and supplied across the world wherever the demands for these amazing spices arise. The garden owners provide paid tours to the tourists and also educate them in natural methods of agriculture and preparation of spices. Where most chefs guard their favorite recipe secrets closely the Sri Lankans are happy to share them with the world in order to get wider recognition for their brand of cooking. Asian countries are renowned for their unique and amazing flavors and Sri Lanka is the current blooming star in the cuisine world.
The locals prefer buying goods from the local farm markets. Amazing cuisines, exceptional taste and unique preparation style all make the Sri Lankan cuisines a perfect treat for the food lovers from around the world. The local red lentils soup is amongst the best that you would find on any nation. The huge farmers markets held in Bandarawela attracts thousands of farmers and spice producers across the country and is considered to be a great spot to delve into the local cooking techniques and culture. The real spirit of the Sri Lankan people is embedded in their cooking which although not famous but is rich in taste and tradition. A trip to Ella is an absolutely must if you wish to truly experience the Sri Lankan cuisine and its strong traditions.