Have you ever dreamed of visiting a beautiful tourist site without being bothered by an oppressive crowd? If you unfortunately cannot rid the high touristic destinations of their large crowds, you can nevertheless withdraw yourself to places just as beautiful and much less crowded. Some places on the planet are so touristy that they almost lose their charm. If you do not like it this way, if you flee the queues, you like adventure and unusual places, this is for you.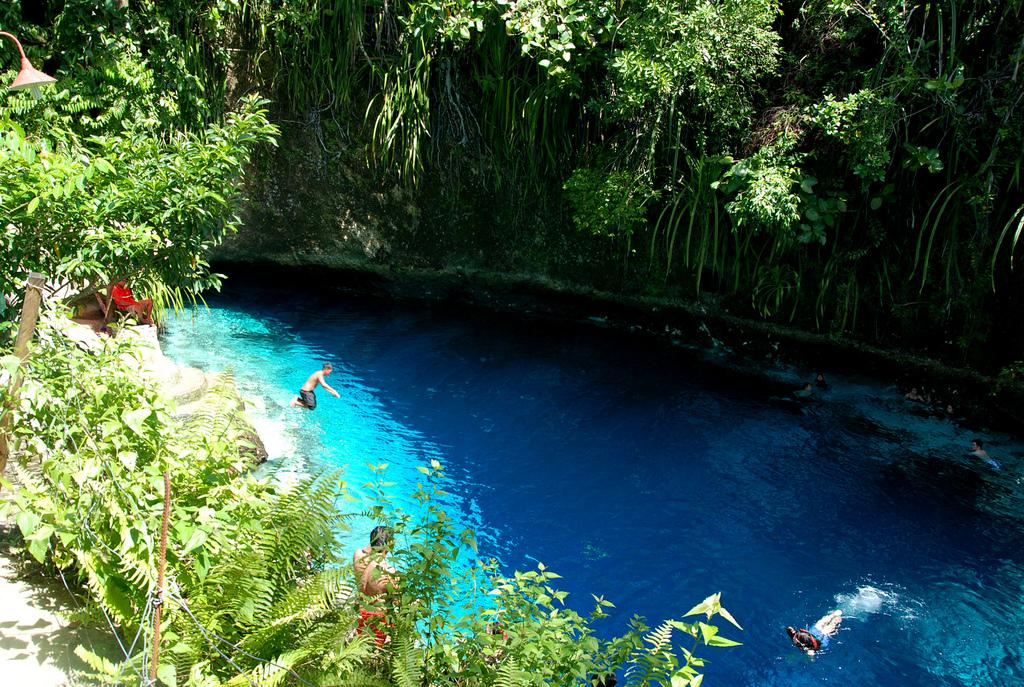 Prepare yourself to embark on a long and pleasurable journey, as we will take you to Mindanao, a southern island of the archipelago of the Philippines. There, a river that is called The Hinatuan River, locally nicknamed The Enchanted River, flows mightily, drenched in myth rolling along its torrents. Hidden in the thick vegetation of Hinatuan, like a little paradise on earth, this river seems to have mystical qualities to it; its water is said to possess miraculous healing powers. This river is magical firstly because of its stunning beauty, secondly, because of its unclear origins. Indeed, this saltwater river flows directly into the Pacific, but has no apparent source. It is a cool experience to swim in its magnificent crystal blue waters.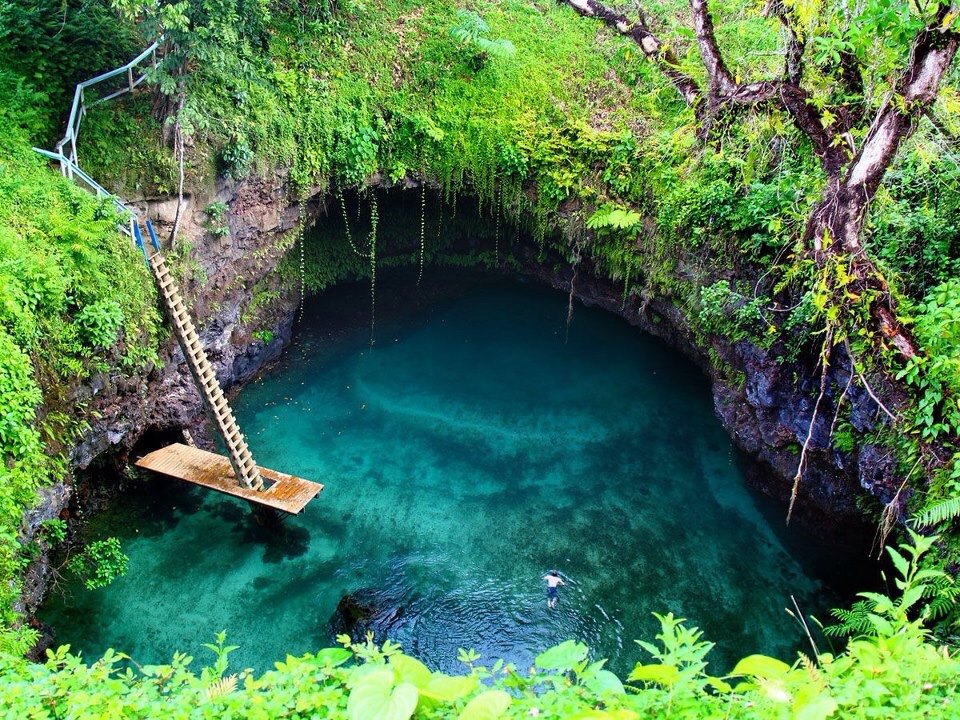 Why it is Enchanted?
In this river, you will discover amazing species of fish and a deep crevasse under the water. People from all over the country come to bathe here. They name it the Enchanted River; and for those who have long known about it, it gained this title and status for three main reasons, or unanswered questions:
Source: Where does the water come from?
No one has yet managed to explain clearly from where the river waters originate. They are usually underground springs that are the source of this kind of formations, yet with this "enchanted river", nothing was found and no one ever hit the bottom.
Defying common sense, the water of this "enchanted river" is pure and salty. This challenges the idea that the waters of lakes, rivers, waterfalls and such are always clear waters. Again, no one has yet been able to demonstrate why.
Every day at noon, a bell rings; which means that swimming is strictly prohibited during a few minutes. Indeed, at this time, the staff members throw food into the river, and then it is a veritable orgy of fish show up from nowhere to eat. After the feast, the fish disappear again, and no were to be found.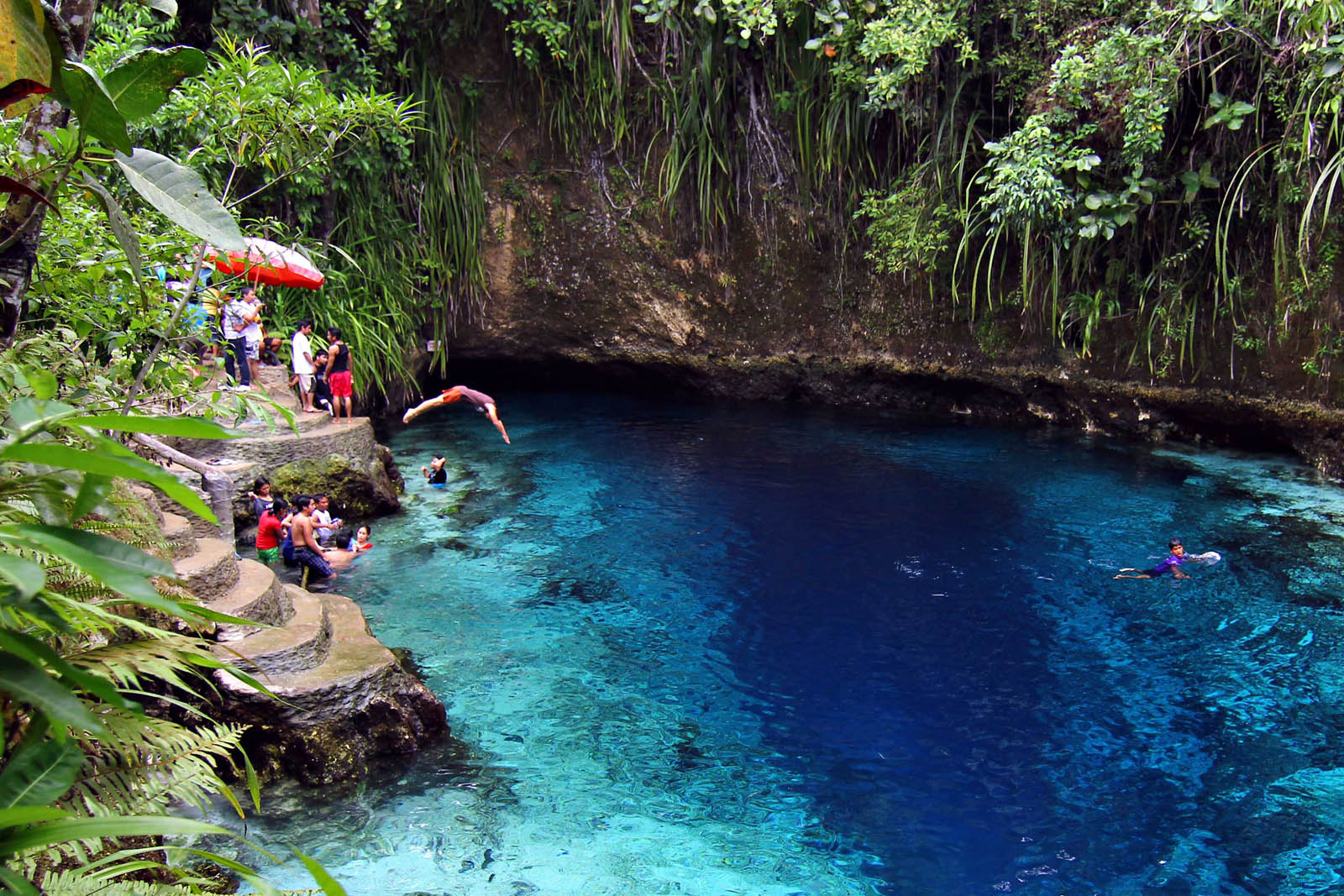 Tips to get there
Access to such a unique place requires engaging in a sort of an adventure. So to reach this sacred place, the simplest way is to go to the city of San Francisco (not that one in the United States! This one is in Cebu, Philippines, that locals calls San Franz), one of the important cities of eastern Mindanao, reachable through Davao City or Northern Mindanao. Arriving at the bus terminal, you will reach the small town of Hinatuan (about 15km /1 hour drive from San Francisco), in Jeep (70-100 pesos) or van for comfort (expect to pay between 200 and 300 pesos for round trip). Once in Hinatuan, you have to find someone to take you by motorcycle to the enchanted river. Do not worry, once arrived at the bus terminal of Hinatuan, a pack of roaring bikers will be expecting you, yelling, offering their services. If you have a Filipino number, remember to ask for the phone number of the driver of the motorcycle so that he takes you back. If you do not have a number, you can always find riders near the river. But beware, do not stay too late as the night falls quickly and there's not much lighting in the area.
What to expect
Locals are clearly not accustomed to foreigners. Expect to be accosted by most people, especially children who are definitely more curious. It can be a bit stressful to some. But no one will want to hurt you, no harm intended. They are just happy to see strangers in the premises. "What's your name?" , "Where are you from ?" , "Where are you going ?"… are some of the questions that you must answer if you choose to be polite, and really there is no reason not to be! In Hinatuan, feel free to take a tricycle that you can find everywhere in the city. More than just an affordable means of transportation, you can use as a closet and put your things and keep them protected under its roof, especially if it rains. It is convenient and inexpensive (will only cost you 5 pesos.)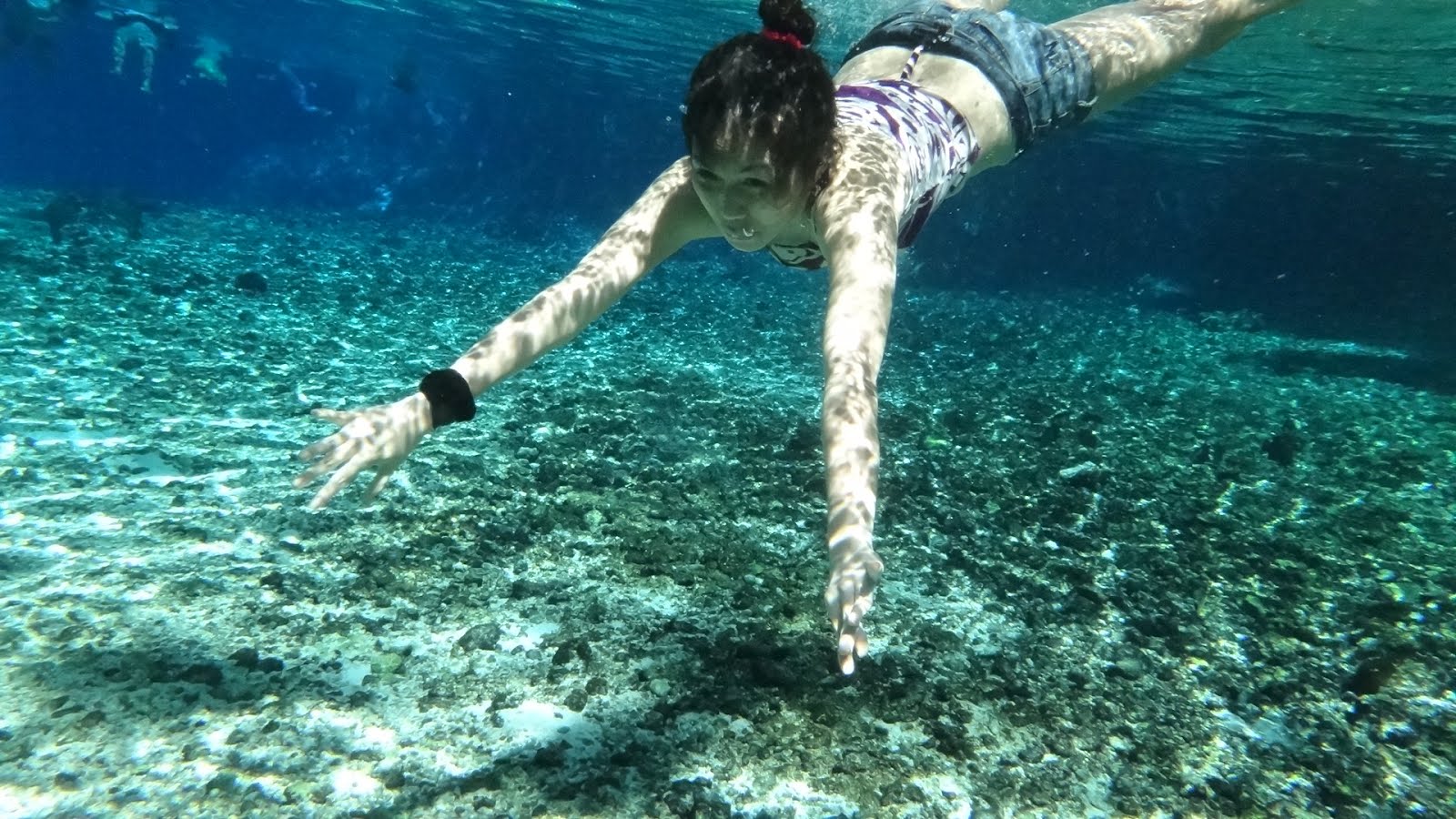 Hotels
Some visitors of the Enchanted River plan their trip in a way that they get there in the morning, they spend a couple of hours exploring the surroundings of the river, then plunge in the water for a while before heading back to Davao City which is more equipped than Hinatuan in hotels as it is a bigger city (it is a bit far, about 250 kilometers, expect to make in 5 hours or more by road). Yet the neighborhood has its share of hotels, such as the CJ's Hometel. As its name suggests (home + hotel), CJ's Hometel is a homey hotel made specifically for those in search of a cozy place to stay and don't want to cut short the amazing experience of the River by going back to the comfort of nearby luxury resorts. Here, you can feel the Enchanted River alive and hear the murmurs of its healing water singing to your ears.
Gastronomy
In the Philippines, they eat rice up to five time a day, with meat fillings (chicken, pork), fish and seafood (shrimps), lechón (which is a roasted pig); fish-based meals are usualy served with a special sauce (toyomansi). Favors are sweet and slightly tangy, with an almost obligatory presence of coconut milk and noodles, and especially of various fish offered in talipapa. In the countryside, the word "fastfood" is absent from the vocabulary of the locals; each outing is therefore a real pleasure for your taste buds and allows you to eat real Filipino dishes in small shops on the roadside or small village restaurants.
Weather: Best time to go 
The best time to go to the Philippines is from mid -December to mid -May, when the risk of typhoons is at its lowest. Go preferably at this time. Winter and spring are the best seasons to visit Mindanao. You will avoid the cyclone period, the climate then  is very pleasant. Lying down on the beautiful beaches, climbing volcanoes, scuba diving, etc., are all so many activities that await you if you choose this time of the year. Like all the Philippines, climate in Mandiano is a tropical, with mild temperatures yearlong (about 25 ° C) and substantial rains. The wet season (locally: Tag-ulan) start from June to October and the dry season (Tag-init or Tag-araw) from November to May, the month during which peak temperatures are registered. During January and February, rainfall and heat are at their minimum. However due to climate change, the seasons are reversed, so that the rain can last until December (and even to March on the coasts). Moreover, typhoons (bagyo) often hit the shores during the monsoon, bringing in their passage winds and cyclones. However, the interior of the lands are often spared due to the presence of mountain ranges that houses the wind.
While in Mindanao
Mindanao island, often referred to as a center of insurrection, offers great cultural and geographical diversity. Animal life on land and under the water is very varied, exotic fruits and beautiful beaches. You want to make the most of your stay in the island of, by:
Staying on the island of Camiguin, taste its famous Lanzones, go to the discovery of the seven volcanoes and enjoy the beaches and wonderful seabed.
Admiring the vast tropical forests, lakes and other rivers that abound in the region.
Visiting the archaeological museums of the city of Butuan .
Observing the panorama offered by Mount Diwata (the mystical mountain) and stroll along the typical markets of the city of San Francisco.
Explore the flooded land of Agusan Marsh and small islands around Surigao .
Taste the fruits of Davao City, reputed for its wide variety of fruits.
Scuba diving in Samal Island.
You might have understood by now that this is not a destination for everyone. The Enchanted River is for adventurers! To go there, you really have to want it. Already few tourists dare to venture into the island of Mindanao (so wrongly!) But if you really do have an adventurer spirit, you will immerse yourself in the waters and throw yourself into the mouth of the Hinatuan river, it's worth the shot. Achieving this is a pretty amazing challenge, so if you agree and go the full nine yards, you will be proud of yourself and could say  "I did it!".